2022 Maine ACE Camp
2022 Maine ACE Camp is happening, just with a bit of modifications:
Also, changes may occur just before the camp occurs that are out of our control, your patience is appreciated. We look forward to seeing everyone at camp. Please email the administrative assistant Darcy LeSiege if you have any questions.
What is Maine Ace Camp?
Maine ACE Camp is a unique educational, hands-on, nation-wide program co-sponsored by the Federal Aviation Administration with outstanding support from the U.S. Military, State and local aviation businesses, general aviation, corporate aviation, seaplane pilot groups and hundreds of volunteers. These camps are designed for middle and high school students who have a strong desire to learn about aviation and explore possible aeronautical careers.
There are two camps held each summer in Maine: The Ace Camp South is a junior day camp for students ages 12-16.
The Ace Camp North is more of a senior, overnight camp for high school students ages 14 -18 and is hosted by the Katahdin Area Council Boy Scouts of America at Camp Roosevelt in Eddington, Maine. For more information click the link above that says "Ace Camp North overnight camp". Ace Camp South is held at Brunswick Airport - it is an extended day camp.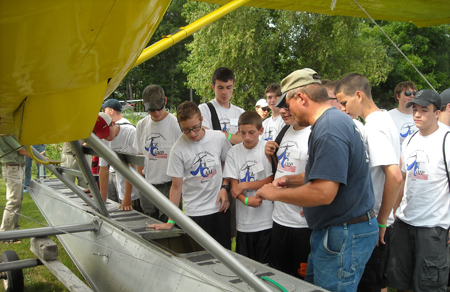 The following is a short summary of activities students will participate in during ACE Camp week:

Classroom lessons on Camp Safety, Aviation History, Theory of Flight, Basic Aerodynamics, Introduction to Aircraft, and Spatial Disorientation.

Tours of local airports, FAA air traffic control facilities, aviation museums, aircraft repair businesses, aerial photography operations, NASA Challenger Learning Center, Air and Army National Guard bases, and more!

Security permitting, fly on a KC-135 refueling mission and on a UH60 Blackhawk helicopter low level training mission! (Bangor camp)

Experience flight through various aircraft: C152, C172, J3, and a BE-58!

Learn first-hand about seaplane operations including wind effects, float construction, flight safety requirements, and pilot license requirements. Experience flight (weather permitting) in various seaplane aircraft!

Create, build and launch model rockets!

Learn teamwork and leadership skills through group sessions and role playing scenarios.

Meet and speak with expert commercial aviation pilots, military KC-135 and UH60/OH58 pilots and crew members, FAA air traffic controllers and maintenance technicians, and possible celebrity pilots! (In 2010, singer Jimmy Buffett spoke to the students in Bar Harbor!)

Receive critical drug and alcohol abuse information and the negative effects any offense can have on future employment opportunities and FAA medical exams. Drugs/alcohol and aviation don't mix.

Have FUN with other students hiking, swimming, volleyball, soccer, and many other recreational activities!

Most importantly, students learn NOW what they will need in future for educational courses, and career planning.
This text will be replaced by the flash music player.